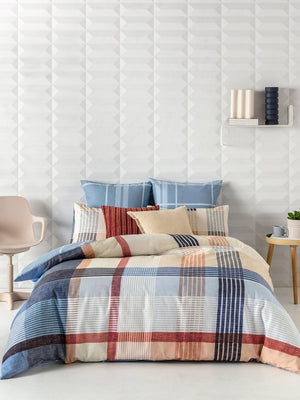 Available at 2000+ retail outlets
Mangal Exports
THE COMPANY - A HERITAGE IN HOME DÉCOR
Established in 1980, Mangal Exports is an India-based Manufacture & Exporter of high quality Home Textile, Hospitality Linen and Accessories. The company enjoys leadership status as a preferred source for a range of bed linen, bath linen, kitchen linen and home accessories; catering to all levels of importers, distributors & retailers dealing in premium home textile across the globe.
With over 35 years of experience and renowned expertise in the textile industry the company has partnered with reputed global corporations such as Walmart, JCPenny, Crate and Barrel, Pier 1, William Sonoma, Home Goods, Marshalls, etc. The company boasts of having catered to over a number of satisfied customers from various countries across the globe, including United States of America, Canada, United Kingdom, France, Germany, Italy and Chile among others.
The state of the art manufacturing and quality testing facilities enables the company to compete with international standards, not only in terms of our quality, but also in terms of our diversity and cost efficiency. The stringent quality audits, high tech infrastructure and massive production capacity, coupled with consistent demonstration of commitment and innovation have led to the company's revolution as a credible and reputed player, both domestically as well as globally. Also, our unique solution-based approach and proven design leadership have positioned us the most preferred partner for progressive institutions worldwide.
Bianca
THE BRAND - KING OF DECOR
Bianca, the flagship brand of Mangal Exports, has emerged a prominent player in the Indian home décor space. The brand specializes in Bed Linen, Bedding Essentials, Bath Linen, Table Linen, Kitchen Linen and other accessories.
Our reputation for premium products, quality finish, excellent variety, competitive price and timely delivery is backed by solid infrastructure and nationwide network of production offices in India. Our corporate headquarters in Mumbai and state of the art manufacturing facilities and distribution centre is backed by strategically located, full-fledged production offices in key textile zones across India.
With over 2000 outlets across India, Bianca has re-defined the dynamics of the home textile landscape in India within the shortest possible time span, and is now poised to expand its geographical presence beyond the boundaries of convention. Encompassing everything from bed linen to bath essentials, customers now have the chance to experience Bianca's product line in modern lifestyle malls as well as traditional linen shops.
Thanks to the strong production base and a keen sense of changing trends in home fashions, Bianca is a brand that espouses the philosophy of 'King of Decor'.
VISION
"To become the top of the mind destination store in home furnishing and décor accessories by selling the widest range of highest quality, innovative, aesthetic and premium products pan India and build the highest level of customer satisfaction and brand loyalty"
MISSION
"To build Bianca brand equity on the platform of trust, integrity, professionalism, knowledge and constant innovation thereby creating a respected brand pan India"
THE DIFFERENCE MAKER
• Bianca is one of the premium and well known Home Décor Accessories brand in India, with a focus on the Home segment.
• A fantastic understanding of the business environment in India on account of the vast experience in the business.
• Strong company culture and values like honesty, integrity and transparency.
• System driven and result oriented processes.
• Continuous analysis using the best systems to understand consumer behavior.
• Expertise of using multiple distribution formats all across India.
• Sales team with an all India presence that is capable of new product launches and placement.
• Leveraging our unmatched dealer and distribution network along with our state-of- the-art infrastructure, Bianca can be a strong platform for your growth.